21 Jan

5 Facts to Celebrate our 5th Anniversary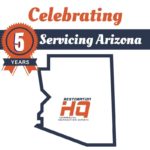 Bursting in to our 5 year anniversary of RestorationHQ (RHQ) and looking back on what we have accomplished, it's humbling and incredible to see how we have grown, the jobs we have completed, and the associations of which we have become a part. Thank you to all our clients, industry partners, and vendors for all the support you have given us. We couldn't have done this without you!
We wanted to highlight 5 fun facts about RHQ in celebration of the 5 years we have been serving Arizona!
52 Minutes Average Response Time
With an average response time of less than one hour, RHQ is always close in the event of a disaster. We are available 24/7/365 with a real technician receiving your calls. At RHQ we NEVER use an answering service; this cuts down on valuable lost time and reduces the financial burden in the event of an emergency. We restore you faster!
20+ Fleet of Emergency Response Vehicles
RHQ understands the need for a fast response, so we are strategically placed around the Valley, and are state-wide in the event of an emergency. Our customized vehicles arrive equipped with the necessary supplies and equipment to handle all your restoration needs. We built the trucks this way!
4,000+ Local Jobs Completed
We are and plan on always being your local Arizona restoration company; our primary focus will forever be fixed on Arizona. Being #1 in the Phoenix market is the goal we work on daily. We want to be your teammate!
35,000,000+ Square Feet Secured
With over 35,000,000 square feet of real estate secured under contract in the Valley, we don't just sign agreements. We work with you to create a custom-tailored recovery plan for your specific building. Let us be your go-to when disaster strikes!
12+ Industry Membership Affiliations
The team at RHQ is very proud to be a part of over a dozen industry-specific membership organizations, including IREM, BOMA, IFMA, NAIOP, and many others. Not only do our technicians receive the most up-to-date training and certifications available, but our marketing team does too. To network and grow with other like-minded people in our industry is crucial for anyone's success, especially in today fast-moving world of Commercial Real Estate.
Remember, as your trusted and valued partner, RHQ can help you plan your recovery too! Talk to us about our Disaster Relief Plan that we can create custom for your property. This plan will minimize not only your financial burden but will also allow for a faster recovery from any size disaster. We got you covered!!
Every second counts, which is why it's so important to plan and prepare for disaster before an emergency strikes your property. RHQ will be on-site ready to make the kind of quick-thinking decisions that could save your property from total destruction.
Want to learn more? Let us come in for a Lunch and Learn presentation. We promise you it is NOT a commercial! Knowledge is power and we want to give you all the tools you will need for when disaster strikes. Let us teach you and the team!
We're here when you need us most. Call our 24/7/365 help line at (480) 256-1453 (Phoenix), or (520) 771-8268 (Tucson).