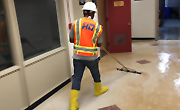 In case of a fire, flood or other evacuation disaster, is your business prepared? According to the Department of Homeland Security up to 40% of businesses affected by a natural or human-caused disaster never reopen. When disaster strikes, a commercial restoration partner will offer the technology, resources and experience to get you back in business as quickly as possible.
Be proactive. While you can never plan when an emergency will strike, a commercial restoration partner can help you create a proactive Disaster Relief Plan that will minimize your financial burden and reduce the time it takes to get your business re-opened. Having a Disaster Relief plan with help restoration crews to act as quickly as possible in saving your property and the contents housed within. Disasters and hazards that can impact your business come in many forms, including:
Natural – flood hurricane, tornado, earthquake or a widespread serious illness such as the H1N1 flu virus pandemic
Human-caused – accidents, acts of violence by people and acts of terrorism
Technology – failure or malfunction of systems (like HVAC on a hot, summer day), equipment or software
Save time and money. With today's equipment and technology, a commercial restoration partner can get you back in business faster and more efficiently. For any restoration or construction project, time is not on your side. It's critical to detect, identify and implement the restoration process as quickly as possible to get your business re-opened, minimize time on-site and reduce labor costs. Technology improvements offer improved detection as well as faster, more comprehensive documentation and reporting. Here are three tools that we think every restoration contractor should be using.

Infrared (IR) cameras are used to show temperature differentials that are invisible to the naked eye. IR cameras with MSX Fusion Technology offer a seamless blend of digital and IR image reporting, increased sensitivity to anomalies, voice notations for better field documenting and are Bluetooth/Wi-Fi enabled for faster image sharing and documentation.
Thermo Hygrometers are used to measure the water vapor in a surrounding area. Today's Thermo Hygrometers give faster reading, better calculate grain depression, vapor pressure and moisture readings, plus the Bluetooth technology allows for readings to be immediately transmitted to the IR camera for thorough documentation.
Drying equipment – from thrust air movers, to pressurized drying systems, to desiccant dehumidifiers, today's technology can cut drying time by hours! The time can really add up to big cost savings in labor hours!
The right restoration contractor will be a partner you can trust to control the quality of the workmanship, keep costs low and represent your best interests when an emergency impacts your business. With modern, high-end equipment and certified technicians, the right restoration partner will guarantee to get the job done right (with detailed documentation) to get your business back in business!