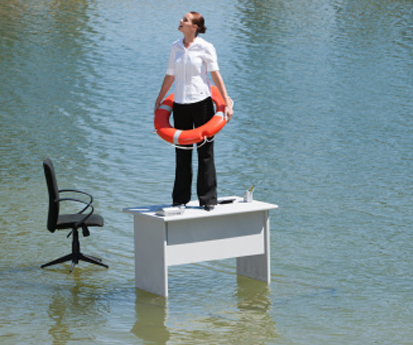 Did you know that, according to the Department of Homeland Security, up to 40% of businesses affected by a natural or human-caused disaster never reopen? If disaster strikes, you need an emergency evacuation plan to get everyone out of your facility calmly and safely. But then what? A Disaster Relief Plan is an important document tool that should go hand-in-hand with your Emergency Evacuation Plan. It will reduce your financial burden and cut the time it takes to get your business back in action. The following article from City National Bank, published on August 12, 2015, outlines some of the key steps needed to create your Disaster Relief Plan.
Disaster Planning for Your Business
Catastrophic events like fires, floods and violence can have devastating impacts on businesses. But while most large companies devote considerable resources to disaster planning, smaller businesses are often ill-prepared for emergencies.
"CEOs are focused on growing their firms and, unfortunately, do not put the time or money in to protect them," says Greg Onoprijenko, regional manager at data recovery firm KeepItSafe. "While they realize the need for protection, they usually believe it will just not happen to them."
That's a big problem, says the U.S. Small Business Administration. It has been determined that 90 percent of companies that remain shuttered for more than five days after a disaster will fail within a year.
But here's the good news: Planning for a crisis does not need to be costly or time-consuming. Preparing for common emergencies, such as power outages or burst pipes, goes a long way toward making sure your company is ready to cope with bigger disasters, like earthquakes or tornadoes.
So shake off the denial and procrastination and get your business ready for the unthinkable.
Mark Norton, director of continuity planning at disaster recovery firm Agility Recovery, said organizations with fewer than 100 employees can typically create and implement a plan within 30 days if they start with an existing template and commit a few hours a week to the effort.
He suggests downloading a disaster recovery plan that walks you through the basic steps of the process. Websites such as DisasterSafety.org and PrepareMyBusiness.org offer free templates and advice to help you get started.
"Put together a small group of employees to work with you on a crisis planning team," advises Briane Grey, director of corporate security at City National Bank.
Grey learned about disaster planning the hard way when he was an agent with the U.S. Drug Enforcement Administration in Washington, D.C. on Sept. 11, 2001. The drug enforcement agency hadn't done routine evacuation drills, so after terrorists plowed an airplane into the nearby Pentagon, DEA employees scrambled to exit their building, jamming stairwells and running into locked doors.
"People were panicking – it was very chaotic," Grey recalls. In order to avoid that kind of situation, make sure your plan includes these basic elements:
Safety: Ensuring the well-being of your employees will be your first priority. That means having disaster supplies on site and devising an emergency evacuation plan with regular practice drills. Make sure every employee has instructions for how and where to check in, report on their status and get further information if a disaster occurs outside of work hours. Identify several communication options, such as text messaging, phone calls and social media.
Workplace: The clock will start ticking after a disaster and you'll need to get your company back in business as quickly as possible. Contract now for access to emergency power generators and other vital equipment. Identify employees who can work from home and get creative about finding workspace for those who can't. "Set up mutual aid agreements with other local businesses so you can share space in their offices or parking lots," Grey suggests. "Talk about these things now, while there is no emergency. You don't want to have to develop relationships on the fly, especially in a high stress situation."
Data: Identify important records and make sure they are backed up online, as well as printed out and stored in a couple of secure locations. Employee and management contact information, customer and vendor lists, bank account and credit card numbers, accounts receivable and pending orders are some of the records that key employees will need if your computers are down.
Communication: Along with getting information to and from your employees, you'll need to respond to your customers and the public, particularly if a violent incident occurs. "Your press person will need to protect your brand and reputation by reassuring customers that the company is still in business and that you're taking appropriate steps, such as cooperating with law enforcement," Grey says.
Once your disaster plan is finalized, make sure it is clearly communicated to your employees, including new staff members as they are hired. Your crisis team should continue to meet once a quarter to schedule drills and run through likely disaster scenarios to see how your plan holds up, making changes and updates as needed.
Plan ahead. Think ahead. Train ahead. Having a well-thought out, up-to-date Disaster Relief Plan will save you money and save you time, ensuring emergency and restoration crews can be as proactive as possible in saving your property and the contents housed within. With construction crews on the scene, you want to maximize billable hours; making sure crews know where to go, what type of building needs they are walking into and who to coordinate with will help restoration teams act quickly to save your property and reduce your billable hours.
Don't have a Disaster Relief Plan? RestorationHQ offers priority agreements to help you develop a proactive emergency response plan and reduce your financial burden. Learn more at www.restorationhq.us.