27 Feb

Do Know Harm Lunch and Learn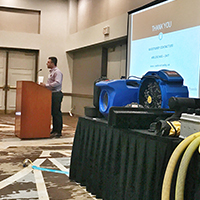 Do No Harm & Do Know Harm:
Are you and your team prepared for disaster? Will you be able to recover? What should you do to be ready?
Join RestorationHQ for a lunch and learn at the March 13th member meeting for the Greater Phoenix Chapter of IFMA. With extensive experience throughout his career, Owner Sergei Guk has seen it all. He'll be sharing his first-hand experience on how you can take important steps to prepare your property – and your business – for all types of natural disasters, and some manmade ones as well. Along with examples of today's restoration technology, Sergei will be sharing important steps you can take to create a proactive Disaster Relief Plan that will minimize your financial burden and reduce the time it takes to get your business re-opened.
When disaster strikes, time is not on your side. 75% of small business don't have a disaster plan in place. Why is this statistic important? Because according to the Federal Emergency Management Agency (FEMA), 40-60% of small businesses never re-open after a natural disaster due to the high costs of repairing the damage. And even if the business does re-open, 52% of owners report that it takes at least three months to recover.
Every second counts, which is why it's so important to plan and prepare for disaster before an emergency strikes your property. Let's make sure that not only your building is protected, but that your occupants are as well. Join us for a fun and educational setting on March 13th or contact us today.