At RestorationHQ, we are proud to be part of an amazing facilities industry community, both here in Arizona and nationwide. That's why we are honored to give back when and where we can. Thank you to all who for their support of Hurricane Harvey relief efforts and the charitable arms of our IFMA and BOMA communities. Read below for more information!
Hurricane Harvey Relief Effort Update
Thank you to AME Landscaping Services, CBRE, EDGE Building Services, Forum Property Services, Transwestern, Lincoln Property Company, TepCon Construction, and all who donated to our Hurricane Harvey relief efforts in October! The week of World Workplace, we were proud to deliver thousands of pounds of relief supplies to both human and animal shelters, including water, food, dry goods, and other critically needed items. We also had the opportunity to volunteer at Best Friends Animal Society shelter. It was truly heartwarming to work alongside so many good Samaritans who were caring for homeless dogs and lost pets after the devastation of the hurricane.
IFMA Foundation donations, Fellows and Curling, Oh My!
RestorationHQ's very own Rachel Reindl led fundraising efforts that resulted in a $5,000 donation to the IFMA Foundation! Rachel represented the IFMA Greater Phoenix chapter in presenting the check during World Workplace along with Elisa De Rosa, facility manager at Sundt Construction.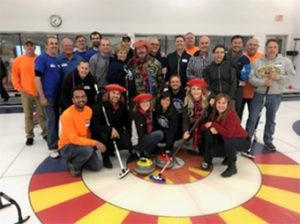 We also want to congratulate the IFMA Phoenix Student Chapter for winning Chapter of the Year at Work Workplace! Congratulations as well to Rick Corea, Phoenix Chapter Secretary and Past President, for being awarded the prestigious title of IFMA Fellow at World Workplace. What a way for Phoenix to shine!
In addition to networking and attending some amazing educational sessions at World Workplace, the RestorationHQ team also squeezed in a little time for fun. Check out Rachel Reindl at the IFMA Curling event. Next winter Olympics, she'll be able to explain curling to us all!
The Good Times Rolled!
Laissez Les Bons Temps Rouler! The good times certainly rolled at the September IFMA Phoenix Charity Golf event, supporting the IFMA Phoenix education fund along with Habitat for Humanity. RestorationHQ was proud to once again sponsor and participate.