15 Apr

Mold Exposure Is Even WORSE Than We Thought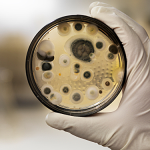 Indoor mold growth and air quality concerns can be serious. Even though there are no federal EPA regulations for mold, the Environmental Protection Agency (EPA) cites indoor exposure to mold as a cause for many health problems including asthma, sinusitis and allergic reactions. In 2004, the Institute of Medicine (IOM) found there was sufficient evidence to link indoor exposure to mold with upper respiratory tract symptoms, cough and wheeze in otherwise healthy people. Today, more and more medical evidence is also now pointing to links between mold and the development of asthma. Individuals with compromised immune systems are even more at-risk for infection from molds.
Mold is often referred to as a "hidden danger" because it's often unseen. According to the EPA, "molds can grow on virtually any organic substance, as long as moisture and oxygen are present." This means that you're likely to grow mold any place that creates a moist environment, such as around leaky roofs, windows, pipes, HVAC evaporation, behind drywall or any in which there's been flooding. Anyone who has picked up and old musty book also knows that mold grows well on paper products as well as on ceiling tiles, wood products, carpet, insulation and even fabric and upholstery.
If you've had or suspect any type of water leak or spill, timing is of the essence as mold can grow as quickly as 24-72 hours after building materials become saturated. Moisture control is the key to mold control. Remediation includes both the identification and correction of the conditions that permit mold growth, as well as the steps to safely and effectively remove mold damaged materials.
Mold comes in thousands of variations and forms, each with a different level of potential harm to the human body. If you think you may have a mold problem at your property, call a certified mold abatement contractor right away to schedule an inspection and protect the health and safety of building occupants.