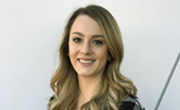 RestoratonHQ is pleased to welcome Rachel Reindl, who has joined the Business Development team.
Rachel will assist in strengthening new business opportunities, client partnerships and other outside business generating activities. Rachel's experience in the service industry will add immense value to the RestorationHQ team and aide in our growth in 2017.
Rachel is a proud graduate of Arizona State University and a wonderful addition to the RestorationHQ team.