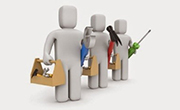 Spring has officially arrived! As the weather warms up, a little preventive maintenance now will go a long way to prepare for the harsh toll the extreme summer months take on your facilities. Not only does preventive maintenance save you the expense of an emergency repair, it allows you to schedule service to suit your schedule, reduce interruptions to your workflow and maintain productivity.
5 spring preventive maintenance tips for your facilities
1. Whether your HVAC system is brand new or an older unit, the system needs to be inspected regularly. Spring preventive maintenance can help improve the efficiency of your system, reduce wear and tear, improve air quality, reduce allergens and prevent costly emergency repairs in the future. Preventive maintenance recommended by your manufacturer, building engineer and/or HVAC professionals will include inspection of the HVAC unit, condenser, evaporator coils, belts and pulleys, electrical connections, blower motors, thermostats as well as air flow and quality.
2. Plumbing maintenance is an integral part of building and property longevity. As part of your spring preventive maintenance, check your water heater, pipes and fixtures for leaks, corrosion and calcium deposits. Regular preventive maintenance can help keep plumbing systems working properly, efficiently, and up to current codes, as well as prevent potentially disastrous leaks.
3. Professional roof inspection is an important part of any spring preventive maintenance plan. If building occupants notice water stains or mold stains on the ceiling, it can be an early warning sign from roof or pipe leaks. Monsoon storms bring lightning strikes and powerful downpours that can cause major damage to your building. Left unchecked, roof leaks can cause major water damage and flooding. In addition to property damage, this invasion of groundwater can quickly become a dangerous breeding ground for mold, bacteria and other pathogens.
4. It's not just the roof over your head, but also the carpet and floors under your feet that can benefit from spring preventive maintenance. Every visitor and facility tenant who sets foot into your building brings with them the dirt, dust and pollens from outside. Seasonal deep cleaning will remove dirt, grime and allergens, rejuvenate the appearance of carpets and tile, and prolong the life of your floors. All-weather mats outside entrances and exits will help year-round to prevent debris from being tracked into your facility.
5. Finally, the best maintenance is prevention. As part of your spring preventive maintenance, walk through your facility. A property or building manager will help you look for small details that could be signs of bigger problems. As part of your facility walk though, you'll want to note the condition of the following: tile and grout and other flooring; caulking around doors and windows; fire extinguishers; alarm or security systems; electrical wiring, alarm and security systems; as well as any signs of mold or water damage.
Spring preventive maintenance is a proactive approach to keep your facility looking its best, while preventing costly, unforeseen repairs and loss of efficiency.