17 Jun

Water Damage Restoration. Time is Not on Your Side.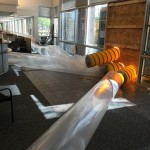 Water emergencies are serious and require timely action. Proper precautions must be taken during any emergency to determine what path a restoration company will take to ensure the most efficient drying time and that damage to your property is minimized. Beyond the initial water damage, mold and bacteria grow quickly in moist environments and can pose serious health problems.
The first step of the restoration process is for the contractor to conduct a site visit to assess the severity of the damage. No two restorations are the same, therefore there is no "one-size-fits-all" approach. Moisture can often be trapped in areas that can't be seen or felt, and it is imperative that proper mitigation occur immediately to prevent mold, mildew and other damage to the property. Thermal imaging cameras combined with penetrating and non-penetrating moisture meters can help to accurately detect any trapped moisture that might otherwise be hidden from view. This assessment is a critical step in determining which equipment and course of action will remove the water from your building as safely and efficiently as possible.
The Institute of Inspection Cleaning and Restoration Certification (IICRC), which sets the standards for the cleaning and water damage restoration industry, defines water intrusion into four different classes:
• Class 1. The lowest and easiest to deal with; this has a slow evaporation rate. Only part of a room or area was affected, there is little or no wet carpet, and the moisture has only affected materials with a low permeance rate, such as plywood or concrete.
• Class 2. With a fast evaporation rate, this level affects an entire room, carpeting or cushioning, the wetness has wicked up the walls at least 12", and there is moisture remaining in structural materials.
• Class 3. This class has the fastest evaporation rate. Ceilings, walls, insulation, carpet and sub-floors are all saturated. The liquid may have come from overhead.
• Class 4. This class is labeled as specialty drying situations, which means there has been enough liquid and time to saturate materials with very low permeance, such as hardwood, brick or stone.
In addition to the classes of saturation, the IICRC defines three categories describing the type of liquid involved:
• Category 1. Clean, drinkable water that does not pose a hazard if consumed by humans. Category 1 water may become progressively contaminated as it mixes with soils on or within floor coverings or building assemblies (walls, decking, subflooring). Time and temperature, which promote the growth and amplification of microorganisms in water can cause Category 1 water to degrade. Examples include burst water pipes, failed supply lines on appliances and vertically falling rain water.
• Category 2. Water that has some degree of contamination and could cause sickness if consumed by humans. As with category 1, time and temperature can cause Category 2 water to become progressively more contaminated.
• Category 3. Sometimes referred to as "black" water. This water contains bacteria and other microorganisms. It is highly contaminated and could cause death or serious illness if consumed by humans. Examples include sewage, stagnant water, rising flood water from rivers and streams and ground surface water flowing horizontally into buildings. Category 3 water can also result in air quality contamination.
Restoration contractors experienced in water damage restoration are trained to tell the difference between these water classes and categorizations, and will determine a restoration plan based on those factors. Once the areas of saturation have been identified and any standing water has been removed, it's important to dry those areas as quickly as possible. To dry your structure and remove all moisture from the structure, technicians may use a combination of equipment, based on the needs of the restoration, including thermal energy drying systems, wall cavity injection equipment, dehumidifiers and commercial drying fans.
Without the right training and certifications, water damage is easily (and most often) misclassified. For example, it may be tempting to have an in-house janitor clean up water that seeps into nearby carpet from a leaky faucet. However, this water can no longer be categorized as a Category 1 (clean water). This water now contains some level of pathogen and bacteria therefore water quickly becomes a breeding ground. Depending on how quickly the water saturated the carpet, it may have easily spread beyond damage that is easily seen or felt. It is important to dry the carpet quickly in combination with the right cleaning and disinfecting agents. The carpet will never be sterile, but it can be neutralized. This is why it is critical to utilize an experienced restoration contractor that will use the right approach the first time to restore and protect your property.
With the proper classification and restoration approach, your property will be dry, safe and back in business in no time.